Chicago and JD & The Straight Shot
March 18, 2017
Columbia, SC
Township Auditorium
Reviewed by Joseph Hett
Chicago And JD & The Straight Shot Are The Top Brass In Columbia
Chicago and JD & The Straight Shot came to the Township Auditorium on Saturday in Columbia to fill the night with amazing music. Both bands brought their distinct brand of music to the capital city.
JD & The Straight Shot started right at 7:30, which is a rarity these days. Usually there are delays with performers going on stage. But JD & The Straight Shot wanted the maximum time allotted to showcase their unique folk and roots rock. It was a 45-minute set that featured original music and some covers.
It was a somber night, because Chuck Berry just had passed way a few hours earlier. JD&TSS played Spirit's "Nature's Way" and sent it out in memory of Berry.
They featured a couple of their songs from major motion picture soundtracks: The somber "Violet's Song" from "August: Osage County" and "Midnight Run" from "Lawless." During "Midnight Run," JD changed the lyrics in a line and sang "Columbia boys spit in your face."
JD said he was going to make a persona change. He disappeared and then reemerged with a top hat and scarf on. He said he was trying to portray someone from an old-timey carnival or freak show. They then went into the western inspired "Ballyhoo."
JD told a story about how record execs picked "Better Find A Church" – off of their newest album – to be the song that gets radio play. JD jokingly continued, "So I'm sure y'all have heard it on the radio, right?" JD laughed as he said, "Call me if you ever do."
The Johnny Cash inspired "Here He Comes" was next.  It contained lyrics that were also Cash song titles.
Near the end of the set, someone yelled out a song request. JD heard it and said, "We already played that. You should have shown up earlier." The crowd laughed as the requester was clearly embarrassed.
During the last song in the set, "Let It Roll," everyone in the band got a chance to solo. An interesting moment came when the drummer performed a solo on his wearable washboard. JD even slipped in a few guitar riffs from "Green River" by CCR, "Roundabout" by Yes and "Paint It Black" by The Rolling Stones.
It is JD's show, but he is backed by some phenomenal musicians. Violinist/fiddler/vocalist Erin Slaver gave a phenomenal performance.  The crowd was filled with skepticism when JD & The Straight Shot first came out, but the crowd soon got into the soulful music. It was a sight to see the auditorium start giving the band standing ovations after each song.
Chicago came out and went into a series of instrumental jams to introduce themselves to the sold out crowd. Chicago then transitioned into a couple classics, "Questions 67 and 68" and "Dialogue (Part I & II)."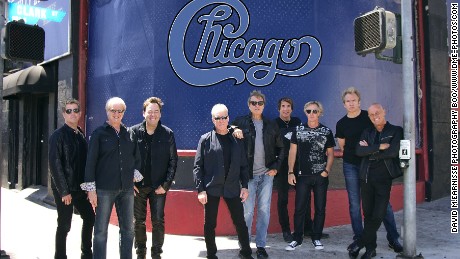 Robert Lamm, Jimmy Pankow and Lee Loughnane were the three original members gracing the stage that evening. Walter Parazaider, also an original, is still in the band but doesn't tour anymore.
Pankow greeted the crowd and said that it was a busy weekend with St. Patty's Day, March Madness and the Chicago concert in town. He mentioned that they were going to be playing all of the greatest hits of Chicago. And that's exactly what they did. They even featured a few deeper cuts.
Chicago continued to crank out songs like "Call On Me" and "(I've Been) Searchin' For So Long." During "Mongonucleosis," Pankow jumped up on the drum riser and started playing percussion.
Next up was the acoustic section of the program. Newest member and lead tenor vocalist Jeff Coffey came out with guitarist Keith Howland to play "If You Leave Me Now."
The stripped down portion continued. Lamm mentioned an unfinished song – when they recorded it – that haunted him for years until he decided to finish it 20 years ago. He said that he would play an abridged version of "Another Rainy Day In New York."
They closed the first set out with the 13-minute epic titled "Ballet For A Girl In Buchannon." It started off with "Make Me Smile" and finished with "Now More Than Ever."
It was now time for a well deserved intermission by Chicago.
Back from break and Howland was perched out front and played a few solo notes and then jumped into the power chords for "Old Days."
The crowd really got into the show when they heard the opening for "Does Anybody Know What Time It Is?" They were singing along with Lamm the whole song.
During a break, Lamm said that they "started out as a bunch of acid taking hippies. But as far as the music, it worked out ok."  Lamm continued to tell the story of how record execs wanted them to change up their sound in the early '80s. "Hard Habit To Break" and "You're The Inspiration" were featured next.
Lamm introduced the band. During introductions, he thanked openers "JD & The Straight Shooters" – an unintentional mistake.
Chicago then got back on track with "Beginnings" and "I'm A Man."
They closed the set out with "Saturday In The Park" and an abbreviated version of "Feelin' Stronger Every Day."
For the encore, they came back out and played the jamming "Free" and the all-time classic "25 Or 6 To 4."
Chicago has been around for 50 years. It is still amazing that they are still going this strong. They have endured a lot over their career with personnel and musical changes. They sound tighter now more than ever. The sound in the Township was amazing. The only downfall is that the guitar could have been bumped up in the mix. They are constantly proving they get better with age.