Old Crow Medicine Show
September 10, 2022
Columbia, SC
Township Auditorium
Review by Joseph Hett
Old Crow Medicine Show Mesmerizes Columbia
Old Crow Medicine Show brought their unique brand of music to the Township Auditorium in Columbia, SC on Saturday night. Their diverse sound ranges from Americana, bluegrass, folk and many more. This show was originally scheduled to take place at the Historic Columbia Speedway last year but was rescheduled. It was well worth the wait as Old Crow Medicine Show put on a mesmerizing two-hour show.
Old Crow Medicine Show burst on the stage with a ton of energy starting with "Tell It To Me" and "Alabama High Test / Painkiller."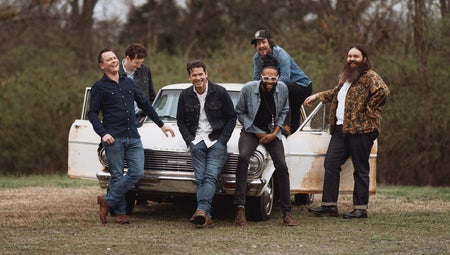 Frontman Ketch Secor, while sawing on the fiddle, constantly hyped the crowd in "South Cackalacky." Secour, also a wordsmith, and the rest of the band stayed in character when having amusing dialogue.
Keyboardist Cory Younts took over lead vocals on the humorous "Down Home Girl." A banjo was brought out to the newest member of OCMS, Mason Via, as he got to sing lead on "Humdinger."
Drummer Jerry Pentecost played the washboard on "Tennessee Bound / Ruckus / Tear It Down." After banter about skinny dipping in the nearby Broad River, they performed "Lord Willing." Guitarist Mike Harris gave a speech about sinning before leading the masses into "Take 'Em Away."
Pentecost, positioned upfront again, told a story about DeFord Bailey before the new "DeFord Rides Again." Bailey was the first African-American member of the Grand Ole Opry but mysteriously disappeared from the Opry in 1941.
A dance competition was announced for "Shout Mountain Music / 8 Dogs 8 Banjos." Upright bass player Morgan Jahnig joking said the prize would be a Low Country boil they made on the tour bus. Someone in the front of the auditorium was declared the winner and was handed some Old Crow Medicine Show merchandise.
"James River Blues" featured a mashup of "Fire on the Mountain" by South Carolina's own Marshall Tucker Band. Harris quipped that he gets told he looks like one of the MTB's members. (Must be Toy Caldwell.)
During the new "Paint This Town," an elderly couple were dancing in the isle. Security went up to them and gave them a talking to. Secour, after the song, asked, "When was the last time you two got in trouble? I'm just glad it happened tonight!"
Secour told a story of how the song "Levi" came about. It was written as a tribute to Army 1st Lt. Leevi K. Barnard who died in Iraq in 2009. A gentleman who served with Barnard was in attendance and received an ovation before the somber tune was played.
Old Crow shows always contain local inspired songs to the audience's delight. Secour reminisced about living in Aiken, SC in the mid-80's. His youth basketball team took a trip to Columbia, but they ended up being defeated and going back to Aiken disappointed. Secour then started "Roll on Columbia" then "Caroline."
The legendary Junior Brown was brought back out for "Boll Weevil" and "White Lightning." Brown opened the evening with a fantastic 45-minute set while blazing away on his double-neck guitar known as a "guit-steel." Brown was limping while using a walker. He revealed that he fell and broke his hip two weeks ago.
After "CC Rider," a vintage microphone was placed on the front of the stage so OCMS could test the acoustics of the historic auditorium. Four banjos were featured for "C for Columbia" – another localized song. They paid tribute to "our brothers and sisters in harms way in Ukraine" with "Ty Zh Mene Pidmanula." They finished the unplugged setup with the Stan Rogers sea shanty "Barrett's Privateers."
Back to their usual positions, they cranked out "Bombs Away / Flicker & Shine" and "Alabama's "Dixieland Delight." The iconic "Wagon Wheel" closed the set. The amps were turned up for the encore with KISS' "Rock and Roll All Nite."
Old Crow Medicine Show puts on a must see live show. Just a week ago, OCMS was featured on the national "CBS Saturday Morning" performing songs from their recently released album titled "Paint This Town." Their live show blew that CBS performance out of the water. Every city on this "Paint This Town" tour is in for a treat!