ZZ Top
September 4, 2011
Cherokee, NC
Harrah's Cherokee Resort Event Center
Concert Review by Joseph Hett
That Little Ol' Band Brings a Big Ol' Sound
ZZ Top performed in front of a sold-out audience at the Harrah's Cherokee Resort Event Center in Cherokee, NC on Sunday night. The trio of Billy Gibbons, Dusty Hill and Frank Be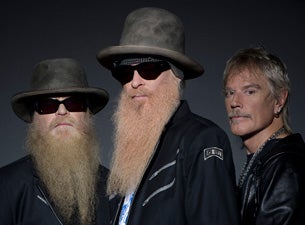 ard brought all of the Texas boogie the capacity crowd could handle.
The trio has been rocking together for four decades, and they were as good as ever.
They started off the set with the fast paced song "Got Me Under Pressure." They then went into
"Waitin' for the Bus" and then transitioned into "Jesus Just Left Chicago."
At one point Gibbons said there were going to be two rules for the show that night. "Number one: No drinking during the gospel songs. Number two: There will be no gospel songs."
They played "Hey Joe" as a tribute to Jimi Hendrix, who took a young ZZ Top under his wing when they were first starting out.
During a break, Gibbons pointed out that Hill had his "blues" hat on and he also needed one. So "Alley Cat," a lady in a red dress, came out and delivered Gibbons' signature oval brimmed hat to him. They then played some blues, a Willie Brown cover of "Future Blues."
Gibbons was a master of the guitar the whole night. This was especially evident during "I'm Bad, I'm Nationwide," "Cheap Sunglasses" and "Just Got Paid." Hill also created thunder on bass, and Beard was a monster on the drums.
They finished out the set with hits from their classic album "Eliminator," including "Gimme All Your Lovin' and "Sharp Dressed Man."
The white furry guitars were handed to Hill and Gibbons as they cranked out "Legs." During this set, the classic MTV videos were prominently featured on the video screen behind them.
For the encore, they came back out ready to rock some more.
They started with "La Grange" and then transitioned into the spin-offs "Sloppy Drunk" and "Bar-B-Q." They then jumped into the "Tush" and finished out the night in style.
The only disappointment of the night came when Gibbons starting to play "My Head's in Mississippi." He played the first verse and then all of a sudden quit. You could tell the audience wanted the whole song but for some season Gibbons stopped abruptly.
They featured a diverse set of songs: new, old and a couple of covers.
It's just amazing how three members could pack this much sound and energy into a show. If you love to rock and roll, then ZZ Top is a must see concert.