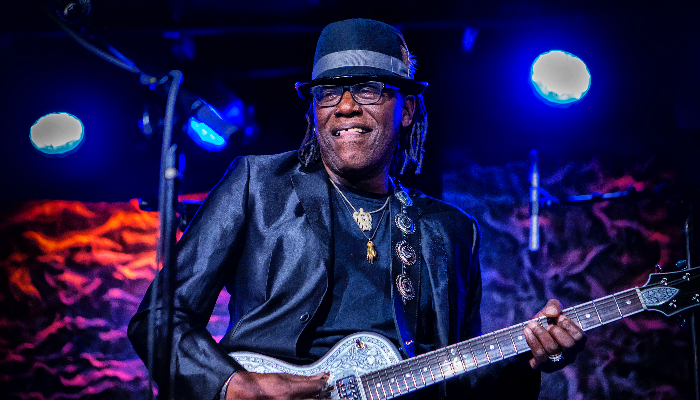 Blues legend Joe Louis Walker recently spoke with Music Recall Magazine about his past, present and future. Please check out our interview below.
JLW's new album "Blues Comin' On" features guest performances by fellow blues icons Keb' Mo', Eric Gales, and Albert Lee PLUS Detroit soul singer Mitch Ryder, harmonica virtuoso Lee Oskar, Hot Tuna's Jorma Kaukonen, punk rock vocalist Charlie Harper, legendary session player Waddy Wachtel, and so many more!
Please visit https://www.joelouiswalker.com/ for more info.
—–
MRM: Where are you "calling" from?   
JLW: From Hudson Valley, NY
MRM: How are you holding up in these crazy times?  It's the perfect time for the blues…
JLW: HOLDING UP OK, KINDA HARD NOT PERFORMING. The BLUES IS ALWAYS NEEDED. But at the moment it's needed a bit more than usual.
MRM: Where did you grow up?
JLW: In the San Francisco Bay Area.
MRM: Is it true you were born Christmas Day? Did you get shorted with 2-for-1 gifts? Haha
JLW: Yes. I kinda got used to sharing my bday, but I did get kinda shorted on presents.  🙂
MRM: How did you first get involved in playing music? 
JLW: I'd started playing instruments in grade school to feed my curiosity…That led to me getting quite serious about being a musician as a teenager.
MRM: What was the Bay Area blues scene like back in the day?
JLW: Very vibrant…lotta mutual respect, musicians helping each other with getting gigs, jamming with one another…etc.
MRM: Could you describe your time dabbling in Psychedelic Rock?
JLW: Being from S.F., I got to see the beginnings of psychedelic/jam band style music. So I played all kinds of music, with all kinds of people – the Dead, the Airplane…etc. And most of the music was very interesting. It was a 24/7 musical education.
MRM: Who are some greats that you got to jam with? Hendrix?
JLW: Mike Bloomfield, Buddy Miles, in the room with Jimi, Sly Stone, John Mayall, Mick Taylor and many more…
MRM: Why did you take a detour into gospel music for those 10 years?
JLW: My musical interests changed and I wanted to learn more about group singing.
MRM: What did it mean to be inducted into the Blues Hall of Fame in 2013?
JLW: Meant a lot to get inducted because many of the folks who influenced me were in the BHOF. Folks who helped educate me in the Blues. Very humbling.
MRM: How is the next generation of blues looking? Anybody on your radar? Any advice for them?
JLW: Next generation is looking very impressive…lotta young women and folks from all over the world singin', playin' and promoting the Blues. On my radar is Selwyn Birchwood, Vanessa Collier,  Jamiah Rodgers, Kingfish. My advice …. be yourself…..don't try to copy anyone.
MRM: Once everything clears up, are you heading out on the road?
JLW: Hopefully……I've got a couple of outside/drive-in gigs in July. We'll see how it goes. Can't wait to get back on the road for real.
MRM: What could you tell us about your new album "Blues Comin' On"? (I've been loving "Blues Comin' On" and "The Thang"!)
JLW: It was a challenge to have many collaborations all at once. But everyone made it a pleasurable experience. I'm glad you enjoy the variance of the tunes. It is a fun album to listen to, record and gonna be fun to perform.
MRM:  I know we are limited on time, anything else you would like to add?
JLW: Just that I wish everyone good health, and I hope to come perform in your neck of the woods at some point ,thanks, JLW.
MRM: Thanks for the interview!  
JLW: You're welcome.