Interview by Joseph Hett
We were lucky enough to catch up with Jason Huber of Cherub after their amazing performance at The Music Farm in Columbia, SC. In this interview, we explore their formation, their goals and what they turn upside down to celebrate.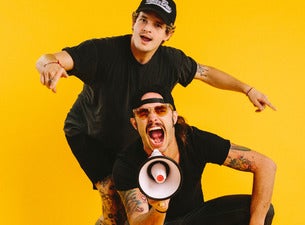 MRM: What are your influences?
Huber: Both Jordan and I, neither of us grew up as classically trained musicians. We've only learned from the things that we listened to. We branch out from there. Early 90's R&B and Pop music is huge for us.
MRM: Describe the formation of the band Cherub.
Huber: If you refer to our Wikipedia page, we met while frequenting the wave pool at Nashville Shores on Boogie boards.
MRM: Does MTSU (Middle Tennessee State University) breed creativity? Or were you all creative to begin with?
Huber: I would say that there is a lot of breeding going on at MTSU. There is also some creativity.
MRM: What is the origin of your band's name?
Huber: It's just one of those things where you come across is in your daily life and you think "oh this would make a great band name". Then it happened.
MRM: Any weird stories from being out on the road?
Huber: This one time Lindsey Lohan bought our photographer a drink and then she got in a fight afterward and made it onto TMZ.
MRM: What's your song writing process?
Huber: We pick a bunch of topics and we put them on a dart board. Then we start shooting darts at the dart board. Then we take a spool of yarn and connect the darts. That's how we come up with the storylines.
For previous albums, we used to use a piñata, but that got kind of confusing.
MRM: Please talk about the new single.
Huber: Though it's not the first song that we released from the record, "Bleed Gold, Piss Excellence," "Signs" is one of the first tracks that we are focusing on. We've both grown up as fans of TI, so getting the chance to work with him in the studio was amazing. We didn't use a piñata that time.
MRM: Can you describe the new album?
Huber: It's going to be released on 12-inch vinyl. It will smell like cardboard. It will weigh 100g, but don't quote me on that. And it will sound really cool when you put it on your turntable.
MRM: What can fans expect from a Cherub show? 
Huber: Jordan and I have been touring for about 6 years now, but for the past year we've been lucky enough to be performing for our live bands. We have two of our best buds, Nick Curtis and Jordan Bartlett, out on the road with us and getting the chance to perform music with some of our best friends every night is one of the best feelings in the world
MRM: How big can Cherub get in the music business?
Huber: It depends how big we sell out. If you have an offer, let us know. We like Jameson, Easy Cheese and Ready Whip turned upside down.
MRM: How do you think Columbia handled the Cherub experience?
Huber: We had an amazing time in Columbia. We had the chance to celebrate Jordan's birthday and throughout this whole tour it's been flattering to see crowds responding well to the new music.
For more on Cherub, please visit cherublamusica.com!