Interview by Joseph Hett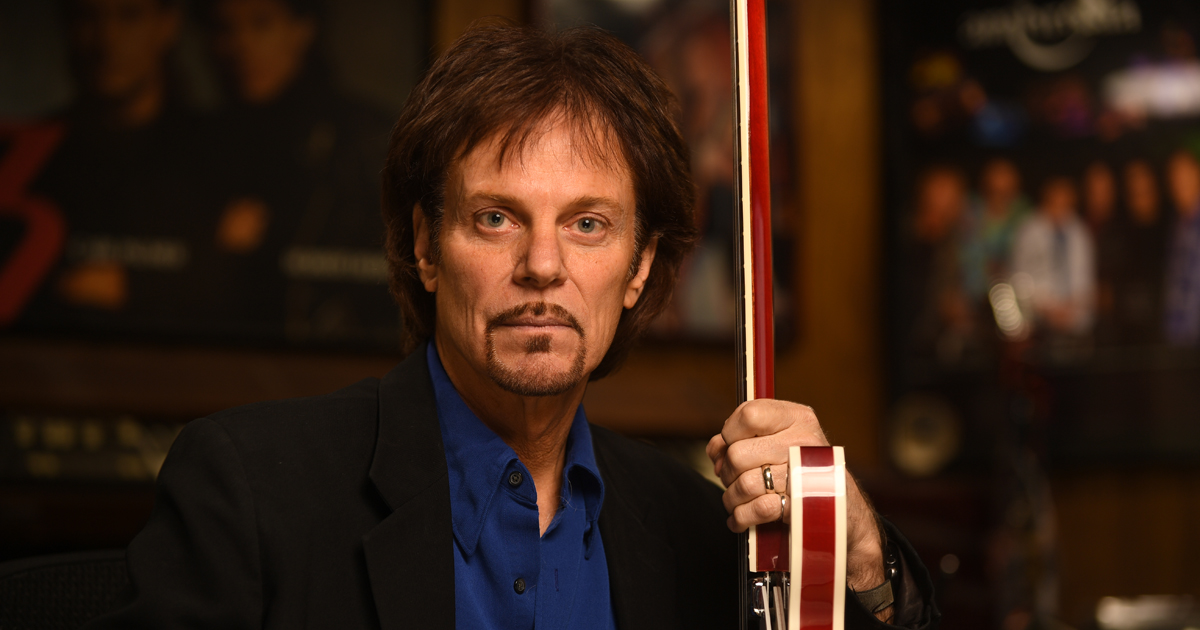 Check out our exclusive interview with Robert Berry as he discusses his illustrious career – from the beginning all the way up to the newest release of 3.2 ("The Rules Have Changed"). Get more info HERE
—–
MRM: How did you first get into music?
Berry: That is still a mystery in many ways. My mom sang in my dad's big band. They always said the band didn't even know she was pregnant until the last two months. So there I was I guess up on stage before I was born. So I like to say that I've always been in a band. I started piano lessons when I was six and took classical piano lessons for 8 years. Then I had 2 years of jazz lessons. I majored in music in college all the while playing in my own band.
MRM: Which instruments do you play?
Berry: I started on keyboards. I had two guitar lessons but didn't want to continue lessons so self taught myself guitar. I started playing bass and drums in high school. I majored in music in college so I had to learn all the instruments enough to squeak out a note. But I wouldn't say I really play them. Bass, drums, guitar, and keyboards i'm proficient on.
MRM: What were you up to prior to joining 3?
Berry: I had a band called Hush that started as a progressive rock cover band. We played at high school and college dances and people would dance to us. Songs like Roundabout and Watchers of the Skies. Funny to think now we were considered a dance band. We got a record contract and toured the US to support the album. It was after I ended that band that I put out my first solo record Back to Back.
MRM: How were you recruited into 3?  
Berry: Three things happened.
1- I got a call on my studio phone from Carl Palmer. Yep out of the blue.
2- Carl and I couldn't find the right people so after I moved to England Steve Howe asked me to join him in the band GTR
3-I left GTR because of some internal struggles (not with Steve Howe. He was amazing to work with and one of my musical heros) Right before I was to head home to the US my manager Brian Lane called and said that Keith Emerson wanted to have a meeting. Yep, I'm the luckiest guy don't you think? That meeting is where we decided to start 3.
MRM: During 3's tour, what kind of venues did you all play?
Berry: Because Emerson, Lake, and Powell had had such a tough time we didn't want to play big venues. They had poor attendance and racked up a big debt. So we decided as a new band that we needed to build from the bottom up. We played 1000 to 1500 seaters mostly. A few smaller, a few like Madison Square Gardens, much bigger.
MRM: Is "Talkin' Bout" your highest charting song?
Berry: Yes. That was a very exciting time in my life. It hit #9 on the Billboard top 100. Up until this new release of 3.2 that had been the high point of my musical career. I had played with many big names, but never had another hit like that.
MRM: Why wasn't a second single released?
Berry: Geffen had the second single already to go. The promotion was printed, the song was picked and we thought it was going to be launched. Lover to Lover was the song and the crowds were already liking it when we played it live. It would have been a natural follow up. Geffen just all of a sudden changed their plans. This upset Keith. It actually upset us all.
MRM: Which songs were originally written for the next 3 album and were eventually placed on your solo album "Pilgrimage To A Point"?
Berry: There were two songs. The first was a 7 or 8 minute piece called The Last Ride into the Sun. I brought it to our last meeting and played it for the band. All I could think about was how great it was going to be when Keith got ahold of it. But all he said was "That sounds like me playing". LOL that was the point! It was in our style but I thought he would take it to the next level if I had it started. The original demo is what I polished up for the Pilgrimage to a Point release so you basically hear what I presented to the band. The second song was written off a drum beat Carl had played during rehearsal. Two measures of drums and that lead me to write a new song.
MRM: Do you think ELP traditionalist halted the momentum of 3?
Berry: In 1988 there was no internet. A few guys decided that they would write Keith a letter telling him he was making a mistake. Unfortunately one of them put his phone number in the letter. Keith called him. He probably wanted to talk him down a bit but it worked in reverse. The guy kept at Keith and criticized us for having what he called "scantily clad female background singers" in the band. What guy would object to that? Ugh! In fact the girls were great singers and wore cool outfits. I think most people enjoyed hearing the female background vocals done live that Keith had arranged for the album. It was a really good band.
MRM: Why did 3 end?
Berry: Mainly because Keith couldn't stand up to the criticism. A few of his fans felt they knew better than him how to further his career. We were moving in the same direction that Yes, Genesis, and Asia had gone. It was the 80's. By the level of our successful single and our successful tour we had started out in the right direction..
MRM: How did you reunite with Keith Emerson to form 3.2?
Berry: A record company decided to put out a live in Boston 3 album. Keith agreed because he felt it was money in the bank. Then the CD showed up at his house and he put it on one night while home alone. He immediately called me really excited. He said he couldn't believe what a great band we were. He loved the sound, the fiery playing and the jamming. He was so excited that I asked him right there and then if he would want to do a follow up. The rest – history!
MRM: Did you all ever write material for "The Rules Have Changed" in person or was it always long distance?
Berry: We had one song we wrote in 1987 that we hadn't used. Keith sent me some finished digital files of keyboard parts for me to finish up and we spent lots of time on the phone jamming back and forth. That was the cool thing. There were no time constraints, no appointments for studio time, no parameter. Only working after the day was done, when we felt inspired, and when we could just let it take whatever path it started to take. It was a tremendously freeing way to wok.
MRM: How was Emerson's spirits the last time you spoke with him?
Berry: He was in a good mood. He was not happy about the shows in Japan he had coming up but he was very excited that he was going to the UK after the shows to see his grandkids.
MRM: Could you tell he was suffering?
Berry: No not at all. He was excited about the album and he had lots of ideas including getting the big MOOG shipped to my studio. I stopped that from happening until he came back and we started working to finish the album. It takes up a lot of room lol
MRM: You do play all of the instruments on "The Rules Have Changed"?
Berry: Not by choice. I had 20% of Keith's parts done. To get the rights from his estate I had to replace the playing he had already done. I painstakingly recreated every sound, every nuance, every single part of Keith's playing to the point where you can not tell between the two. I would never say I'm anywhere close to being as good as Keith. But because of my many years of piano lessons I am capable of playing at a high standard.
MRM: To me, "The Rules Have Changed" has more of a prog sounds versus the older 3 material. What made you go in that direction?
Berry: From the writing together in 1987, to touring, to working though-out the 27 years leading up to the 3.2 album, we knew what we wanted to do, what the follow up album should be, and we thought we knew what the fans would like.
MRM: Do you still keep in contact with Carl Palmer?
Berry: Yes I do and I've been invited by Carl to see his ELP Legacy twice. I've totally enjoyed it each time. Carl is playing better than ever and has not lost one ounce of power in his playing even after 30 years.
MRM: Do you think you will release any more 3/3.2 related material in the future?
Berry: There was only one last chance of those phone calls, one last chance of those piano jamming sessions, one last chance at designing the outline for a second 3 album. I am totally dedicated to its success. And even though I have some unused material I don't think I will ever follow up this album. This just holds to many important memories and can never be repeated.
MRM: I know we are running tight on time, but I have to ask you about a couple other of your projects before we go…What's up with The Greg Kihn Band?
Berry: While I work on 3.2 Greg is using Rick Springfields band. We have dates booked already for next year and I'll have to figure how to work my "30 years of Prog" tour around the other dates. It's going to be a busy year.
MRM: And December People (since the holidays are fast approaching)?
Berry: I am preparing for December People shows now. This is our farewell year so it is a big one but we are staying close to home this time around. Check out www.decemberpeople.com. For info and where to get the music.
MRM: Thanks so much for the interview!
Berry: Thank you for the great questions and checking out 3.2 The Rules Have Changed. I hope we can meet in person on my tour next year. Please check out www.robertberry.com and join- 3 (Emerson,Berry,Palmer) on Facebook.