Artist: Santana
Album: Perfect Strangers Live
Label: Eagle Vision
Genre: Classic Rock
This 2 CD/DVD set features the reunited original Santana band from the late '60s/ early '70s. It was performed at the House Of Blues in Las Vegas. It features Carlos Santana (guitar, vocals), Neal Schon (guitar, vocals), Gregg Rolie (Hammond B3, lead vocals), Michael Shrieve (drums) and Michael Carabello (congas, percussion, backing vocals).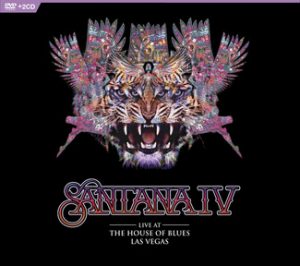 In a surprising move, they start with the legendary song that sky rocketed the band to international fame called "Soul Sacrifice." They quickly pumped out the all-time classics "Jingo" and "Evil Ways."
Carlos Santana introduced the band and finally brought out Neal Schon. He credited Schon for being responsible for the reunion.
There is a lull in that action with lesser known songs. In the middle of that section, they did play the classic "No One To Depend On." It then picks back up near the end with "Black Magic Woman/ Gypsy Queen" and "Oye Como Va."
Santana mentioned that the Isley Brothers were one of his influences growing up. He introduced Ronald Isley to come out and jam with the band. They played "Love Makes The World Go Round" and "Freedom In Your Mind." They closed out the encore with the 1971 instrumental "Toussaint L'Overture."
Santana prove that they still have 'it' after all of these years. They need to have one more major world tour before calling it quits. (They only scheduled a very limited number of shows for their reunion.) Thankfully we can relive this concert over and over with this CD/DVD combo pack.