Artist: The Marshall Tucker Band
Album: Live! From Englishtown, NJ
Label: Ramblin' Records
Genre: Classic/Southern Rock
The Marshall Tucker Band is back with a new live album that was recorded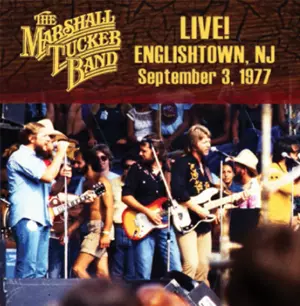 on September 3, 1977 at Raceway Park in Englishtown, NJ. It was an 11-hour outdoor show that drew over 150,000 fans to the one-day festival. They played before the headliner the Grateful Dead.
This album features the original MTB lineup of Doug Gray (vocals), Toy Caldwell (lead guitar), George McCorkle (guitar), Tommy Caldwell (bass), Paul Riddle (drums) and Jerry Eubanks (reed/keyboards). In this time period of the MTB, their landmark album "Carolina Dreams" had been recently released and rising up the charts – their best selling album except for the "Greatest Hits."
They start off with "Never Trust A Stranger." Each member of the band takes a turn soloing, and the crowd just loves it. They soldier on with the Tucker classics "Searchin' For A Rainbow," "Heard It In A Love Song," "Take The Highway" and "Fire On The Mountain."
They close the set out with the western-themed instrumental "Long Hard Ride" and the 14-minute epic "24 Hours At A Time." For the encore, Toy Caldwell takes charges on lead vocals and plays the all-time classic "Can't You See."
The only negative is the sound of the recording. It was dubbed from the original recording which was an official bootleg. It was hard to hear Tommy Caldwell getting low with the bass – due to the audio quality. Also, it sounds like some of the crowd reactions might have been added to make it seem more authentic. But overall the sound gets progressively better as the concert goes on.
The Marshall Tucker Band was in its prime form during this concert. They rocked the massive crowd that day in Englishtown, NJ. This is a must have if you love the Marshall Tucker Band and Southern Rock since there are a limited number of live releases of the original MTB.
Live From Englishtown Track Listing:
1. Never Trust A Stranger
2. Searchin' For A Rainbow
3. Heard It In A Love Song
4. Take The Highway
5. Fire On The Mountain
6. In My Own Way
7. Fly Like An Eagle
8. Long Hard Ride
9. 24 Hours At A Time
10. Can't You See