Artist: Alan Jackson
Album: Keepin' It Country – Live At Red Rocks
Label: Eagle Rock
Genre: Country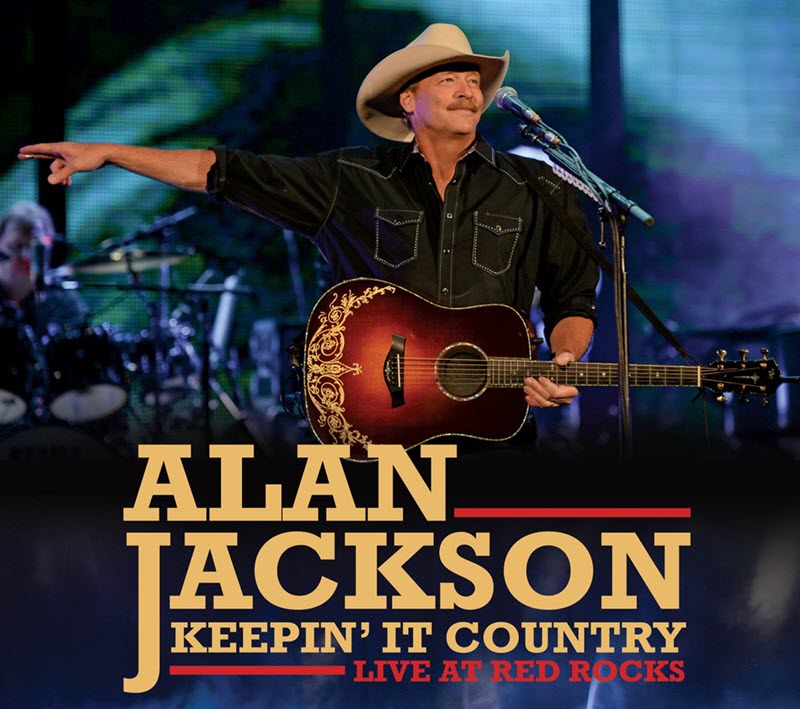 You want REAL country? Well, you've got it with the new DVD from Eagle Rock called "Keepin' It Country — Live At Red Rocks" by Alan Jackson. It was filmed on May 17, 2015 at the legendary Red Rocks Ampitheatre in Morrison, CO. This concert was originally taped for the AXS TV network and now is being released as a DVD and digital video. It took place during Jackson's Keepin' It Country Tour, which was celebrating Jackson's 25th anniversary in the business. (Make sure to read our local concert review of this same tour right HERE.)
It was a rainy Sunday night because shots of the audience showed them with rain coats and ponchos on. Jackson was backed by a very tight and precision group of musicians. They all got turns throughout the night to solo their respective instruments. Jackson mainly held his acoustic guitar and sang with fun and heartfelt clarity throughout the night.
This DVD is slam packed with hits from Jackson's 25 years of music. The soaked crowd really got moving with up-tempo songs like "Good Time," "Don't Rock The Jukebox," "It's Five O'clock Somewhere," "Chattahoochee," "Where I Come From" and, the encore, "Mercury Blues." Jackson also snuck in some somber songs like "Where Were You (When The World Stopped Turning)" and "Remember When."
There is a need for Jackson's music these days. This is a time when new country is gaining more popularity due to crossing over into rap and pop. Jackson just keeps on keepin' it country, which is a good thing on this DVD.
Track Listing:
1.) Gone Country
2.) I Don't Even Know Your Name
3.) Livin' On Love
4.) Good Time
5.) Small Town Southern Man
6.) The Blues Man
7.) Who's Cheatin' Who
8.) Little Bitty
9.) Country Boy
10.) Drive (For Daddy Gene)
11.) Where Were You (When The World Stopped Turning)
12.) Don't Rock The Jukebox
13.) Here In The Real World
14.) Wanted
15.) Chasin' That Neon Rainbow
16.) It Must Be Love
17.) Song For The Life
18.) Pop A Top
19.) Angels and Alcohol
20.) You Never Know
21.) As She's Walking Away
22.) Remember When
23.) It's Five O'Clock Somewhere
24.) Chattahoochee
25.) Where I Come From
26.) Mercury Blues