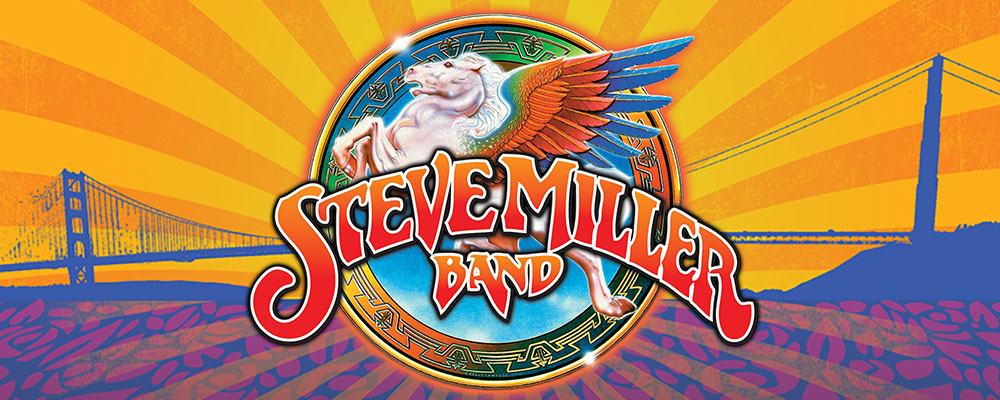 BIG HASSLE MEDIA
For Immediate Release
March 13, 2016
STEVE MILLER BAND CONFIRMS NORTH AMERICAN SUMMER TOUR
CELEBRATES ROCK AND ROLL HALL OF FAME INDUCTION
CEREMONY SCHEDULED FOR APRIL 8TH, 2016
(NEW YORK, NY) Steve Miller Band has confirmed their 2016 North American summer tour. Beginning June 17 in Northfield, OH, at Hard Rock Live, and ending September 4 in a co-bill date with Santana, Journey and Doobie Brothers in San Francisco, CA at AT&T Park, the tour confirmation comes on the heels of Miller being voted into The Rock and Roll Hall of Fame. The multifaceted songwriter, singer, guitarist, producer will be inducted after being nominated for the first time this year. Miller will join fellow inductees at the 2016 induction ceremony, scheduled for April 8th, 2016. The complete 2016 summer tour itinerary is below.
Steve Miller was a mainstay of the San Francisco music scene that upended American culture in the late '60s. With albums like Children of the Future, Sailor and Brave New World, Miller perfected a psychedelic blues sound that drew on the deepest sources of American roots music and simultaneously articulated a compelling vision of what music-and society-could be in the years to come.
Then, in the '70s, Miller crafted a brand of rock 'n' roll music that was polished, exciting and irresistible, and that has dominated radio through today. Hit followed hit in an endless flow: "The Joker," "Livin' in the USA," "Take the Money and Run," "Rock'n Me," "Fly Like an Eagle," "Jet Airliner," "Jungle Love," and "Abracadabra" among them. To this day, these songs are instantly recognizable when they come on the radio-and impossible not to sing along with.
Running through Miller's catalogue is a combination of virtuosity and songcraft along with melodic vocals and signature guitar riffs. His parents were jazz aficionados — Les Paul was his godfather — so as a budding guitarist and singer, Miller absorbed valuable lessons from their musical tradition. When the family moved to Texas, Miller deepened his education in the blues, meeting T-Bone Walker and learning to sing and play listening to him and Jimmy Reed. Miller then moved to Chicago where he played with Muddy Waters, Howlin' Wolf, Lightnin' Hopkins, Buddy Guy and Paul Butterfield.
Miller is also contributing his time to serving on the welcoming committee of the Department of Musical Instruments of New York's Metropolitan Museum of Art and as a board member of Jazz at Lincoln Center, where he curates and hosts shows at both institutions celebrating the bridge between blues and jazz music and early American music.
STEVE MILLER BAND 2016 SUMMER TOUR DATES:
June
17 – Northfield, OH – Hard Rock LIve
18 – Cincinnati, OH – PNC Pavilion
19 – Toledo, OH – Zoo Amphitheater
21 – Huber Heights, OH – Rose Music Center
23 – Interlochen, MI – Kresge Auditorium
24 – Clarkston, MI – DTE Energy Center
25 – Anderson, IN – Hoosier Park Raceway
29 – Minneapolis, MN – Northrop Auditorium
30 – Ft. Dodge, IA – Shellabration
July
1 – Madison, WI – Breese Stevens Field
2 – Highland Park, IL – Ravinia
15 – Peachtree City, GA – The Fred
16 – Raleigh, NC – Red Hat Amphitheater
17 – Charlotte, NC – Uptown Amphitheater
19 – Augusta, GA – Bell Auditorium
20 – Tallahassee, FL – Pavilion Centre
22 – Biloxi, MS – Beau Rivage Theater
23 – Houston, TX – Revention Music Center
24 – San Antonio, TX – The Majestic Theater
26 – Austin, TX – Skyline Theater
27 – Hidalgo, TX – State Farm Arena
30 – Albuquerque, NM – Sandia Resort
August
12 – Las Vegas, NV – The Chelsea – The Cosmopolitan
13 – Los Angeles, CA – Greek Theater
14 – Paso Robles, CA – Vina Robles
16 – Fresno, CA – Table Mountain Casino
18 – Lake Tahoe, CA – Harrahs Outdoor Arena
19 – Park City, UT – Deer Valley Amphitheater
21 – Boise, ID – Botanical Gardens
22 – Spokane, WA – Northern Quest Resort
24 – Vancouver, BC – PNE Amphitheater
26-27 – Woodinville, WA – Chateau St. Michelle
28 – Troutdale, OR – Edgefield
31 – Bend, OR – Les Schwab Amphitheater
September
1 – Jacksonville, OR – Britt Pavilion
4 – San Francisco, CA – AT&T Park w/Santana, Journey and Doobie Brothers
For additional news and information, please visit www.stevemillerband.com, www.facebook.com/stevemillerband, and twitter.com/smbofficial (@smbofficial).