Styx/REO Speedwagon/ Don Felder
April 7, 2018
Greenville, SC
Bon Secours Wellness Arena
Reviewed by Joseph Hett
Styx, REO Speedwagon And Don Felder Are Grand In Greenville
It was a rocking Saturday night at the Bon Secours Wellness Arena in Greenville, SC with Styx, REO Speedwagon and Don Felder. This is an extension of last summer's "United We Rock" tour. This tour package is hitting markets, especially arenas, which they did not get to the last time around.
Felder, former guitarist for the Eagles, came out first a couple minutes before his scheduled start time. Don was donned in all white for his set. The backdrop had Felder's logo along with a caricature of what appeared to be a certain hotel from a certain western state.
Felder and the band came out and started the Eagles classic "Already Gone" and "One Of These Nights."  Felder would continue on a tear of Eagles classics except for his heavy riffing "Heavy Metal," from the soundtrack of the 1981 animated cult classic movie with the s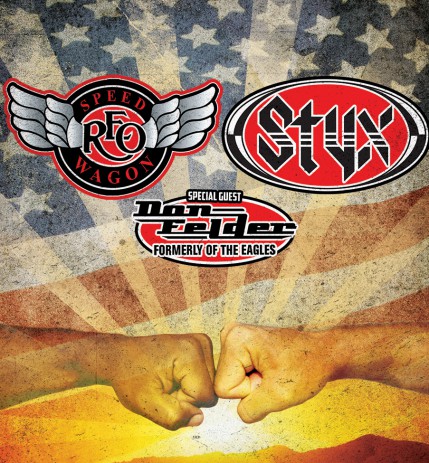 ame name.
Felder mentioned that his former band would warm up to this song before gigs back in the day. Felder and the band began to harmonize "Seven Bridges Road." Felder introduced his band and then laid down a nasty groove for "Witchy Woman."
Felder often walked out to the very edge of the stage soloing in the spotlight while fans at his feet felt every note. He performed an amazing slide guitar performance for "The Long Run."
Felder brought out Tommy Shaw of Styx for "Take It Easy." Shaw had a guitar and then his tech brought a banjo out to him near the end of the song.
The crowd was pumped up for the fast paced "Life In The Fast Lane."
Felder's iconic white double neck guitar was handed to him. And everybody knew what time it was for. Felder then brought Shaw back out along with Styx's Todd Sucherman and REO Speedwagaon's Dave Amato and Bryan Hitt. It was an amazing rendition of "Hotel California." Felder, Shaw and Amato all blazed away on the timeless guitar solo at the end.
Don Felder put on a phenomenal show. He got everyone in the mood for a night of classic rock. His setlist was stacked. He only omitted "Victim Of Love" and "Those Shoes" from his usual repertoire. Felder appears to have no signs of slowing down in his fast lane.
REO Speedwagon was next up. They came out with "Don't Let Him Go" from 1980's "Hi Infidelity" album.
Frontman Kevin Cronin told the audience that REO has been visiting South Carolina since opening up for Black Oak Arkansas in the early '70s. He was very appreciative for everyone's support over the years.
During "Can't Fight This Feeling," the arena sang along to the ballad. Couples could be seen embracing during the slower songs.
REO featured a new song that they have yet to record – "Whipping Boy." It was upbeat and received a positive reactive from the fans. "That Ain't Love" was a bluesy tune and feature Amato with a lot of string bending notes.
REO then got back on track with REO staples like "Take It On The Run" and "Time For Me To Fly."
Bassist Bruce Hall got to shine on vocals with "Back On The Road Again." Hall had the bass riff driving while Cronin described that REO is Midwestern meat and potato rock and roll.
They closed the main set out with the epic "Ridin' The Storm Out" and "Roll with The Changes." For the encore, they paid tribute to the late Tom Petty with "Listen To Her Heart."
As always, REO Speedwagon is a change of pace. For some hardcore rockers in the audience, REO's ballads might have been a turn off. REO did put on a great show. They ranged from the aforementioned ballads to harder rock. There is something for everybody with REO Speedwagon.
Styx was up last to close out the evening. The first song they featured was "Gone Gone Gone," from 2017's "The Mission." Also from that concept album about space, they played "Radio Silence" and "Khedive" later in the show.
Styx got back to the classics with "Blue Collar Man (Long Nights)," "The Grand Illusion" and "Lady."
James "JY" Young introduced a deep cut from 1975's "Equinox" album. He jokingly mentioned how he might have dealt in some questionable activities in the past. "Back in those days, when I would celebrate and maybe some of you – ingested large quantities of things that were really pretty damn bad for me in the name of having fun!" Young then asked everyone to hold up their cell phones to light up for the song "Light Up."
Young kept the rock coming with the riffing "Miss America." The pounding bass drums by Sucherman really got the arena clapping.
Tommy Shaw was a constant showman. Every time he's onstage, he truly looks like he's having fun. Before "Fooling Yourself (The Angry Young Man)," Shaw introduced and brought out their original bass player, Chuck Panozzo. Shaw then continued with his perfect vocals on the funky "Too Much Times On My Hands."
All night long Lawrence Gowan, who has been in the band around 20 years, spun his keyboards around. He would jump off of his riser to add an exciting feeling to his performances. Gowan performed the aforementioned "Khedive" with his back to the crowd to showcase his blazing classical piano skills.
They performed the everlasting "Come Sail Away" to close out the set. For the encore, confetti was shot out of cannons for "Rockin' The Paradise." Last up was the rocking "Renegade."
Styx still sounds fantastic live. They are a workhorse band by being on the road all throughout the year – either as a solo act or in a tour package like this one.