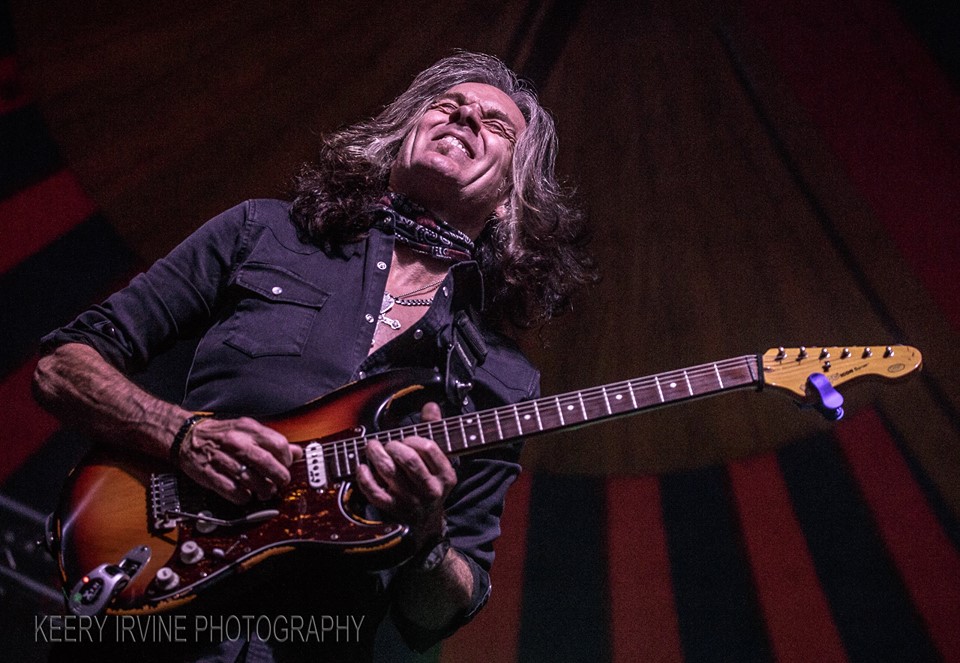 Pat McManus (Mama's Boys, Celtus, Pat McManus Band) recently spoke to Music Recall Magazine about his start in music, touring the world and how he obtained the nickname "The Professor". Make sure to check out the recently released "Full Service Resumed" album by the Pat McManus Band. For more information, please visit http://patmcmanus.co.uk/
———-
MRM: Where are you "calling" from?
Pat: County Fermanagh, Northern Ireland
MRM: How have you been holding up during these crazy times?
Pat: At first, as for everyone, I found it very restrictive and one truly felt that everything had been taken away, but after many requests, I started live streaming every few weeks. I chose to reinvent a lot of the songs and re-record and play all the parts on the backing tracks, which in truth was a lot of work and a serious workout. Still it gave me something positive to focus on. I also started to work on the songs for the new album and also hooked up with some fellow musicians to record various songs for charity. Still I absolutely missed touring and playing live, that's what I and most musicians play music for…but it's coming back slowly.
MRM: Who are your influences?
Pat:So many…but I'd say Rory Gallagher, Jeff Beck, Gary Moore, Stevie Ray Vaughan and definitely all those classic masters of the blues.
MRM: How did you get your start in the music business?
Pat: First off, I was performing with my family from a very young age and certainly served my apprenticeship around the clubs and pubs of Ireland. Later on in my late teens, I saw a band called Horslips who I could relate to musically as their music mixed Irish trad with rock…my eyes were opened. I formed a band with my brothers and very quickly Horslips allowed us to support them. Then other supports began to happen outside of Ireland with Hawkwind and Wishbone Ash. Meanwhile Philip Lynott started to take note of the band – we had met him at a couple of festivals including Slane Castle and Lisdoonvarna and he liked what he heard and invited us to join Thin Lizzy on their Thunder and Lightning Farewell Tour…that led to us playing Reading Festival and getting our first major record deal.
MRM: What kind of TV show did you perform on at 7 years old?
Pat: I was on a show called "Tommy's Toy Shop " amongst others…it was a kind of platform for young performers, but really the aim was to raise money for sick children.
MRM: Could you tell us your about your time in Mama's Boys?
Pat: Well, that covers a very long period of time and probably too much to discuss in brief, but it was one of the best experiences of my life. And to share that with my two brothers was special and amazing. I think the bonus from all that was getting to travel the world, play with so many iconic bands and making good friends that have lasted a life time.
MRM: Did you enjoy shooting those music videos?
Pat:Somewhat, but I guess yes – as I like new challenges and each one was like a mini movie. Plus with MTV being so big then…great exposure for any band, anywhere and everywhere you couldn't be.
MRM: Do you ever think about what could have been if Quiet Riot didn't come out with "Mama Weer All Crazee Now" at the same time Mama's Boys did?
Pat: Not really. It was a shame, but I don't dwell on those things.
MRM: How well did you get to know the lads in Thin Lizzy?
Pat: Very well I guess, as we spent a lot of time with them. Phil was always there – in our dressing room, giving us advice, etc. And even after the tour had finished, he turned up at our shows and invited us to some of his recording sessions. In recent years, I am still in touch with Scott (Gorham) and Brian (Robertson) and have also played gigs and festivals alongside their bands with the PMB across Europe.
MRM: When was the last time you toured in the US? And any plans on coming back?
Pat: Unfortunately, quite a long time ago. In the late '90s when I was signed to Sony with my band after Mama's Boys…'Celtus.' There were plans to do so, but it just didn't happen. I have, however, played traditional music in the US in more recent years around Chicago and in Washington, DC. I would very much now like to return to tour this new album….we will see.
MRM: I must ask, how did you obtain "The Professor" as a nickname?
Pat: I obtained the nickname "The Professor " as many young fans would come up to me and ask advice about instruments, the business, etc…and I often hung back way too long talking. After one concert, the road manager was getting everyone together to leave and I was still chatting and I believe he shouted out " Where's the Professor?" and it stuck and I became known by that…
MRM: What can you tell us about the recently released "Full Service Resumed" album by the Pat McManus Band?
Pat: Well, I am so excited to get this album out there to as many territories as possible. It was my labour of love and therapy during lockdown. I had time to work on it more because of that situation, but recording and getting to a studio was mega difficult. Still when we were able to form small 'bubbles' mine was my band and producer. I record quickly and honestly as I want to on the most part record something that can be played live. I am so happy at the very positive responses it is now getting everywhere…and to know that some of my compositions are so relevant today.
MRM: Thanks for the interview. Anything else you would like to add?
Pat: Thank you for the interview, and I hope to see you all the near future.