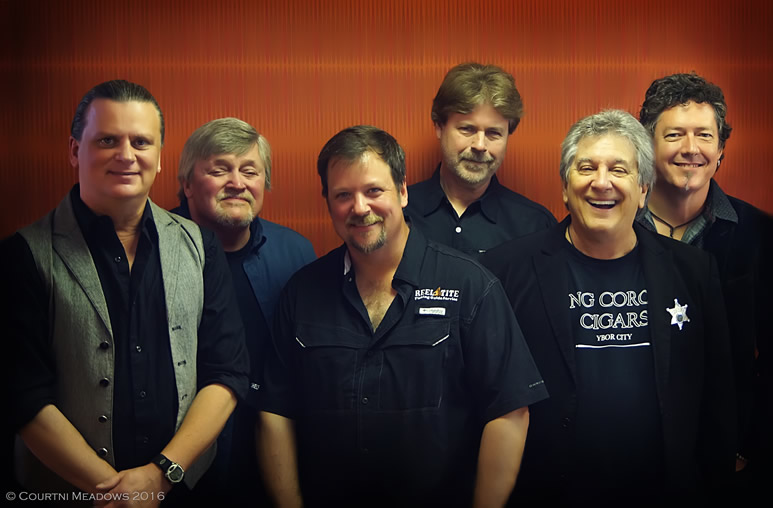 Music Recall Magazine recently had a chance to speak with Atlanta Rhythm Section's original vocalist Rodney Justo. Please read our exclusive interview below. The Atlanta Rhythm Section will return home (Atlanta) for a show on December 27, 2019 at the Buckhead Theatre. This will be a historic event since co-founding member Dean Daughtry is retiring after the set. This show is must see if you are an ARS fan!
More show info: HERE
Get your tickets: HERE
—–
MRM: Where are you calling in from?
Justo: I live in Tampa, FL, where I grew up.
MRM: Who were your influences?
Justo: I wanted to be an R&B singer but my voice was too clear. Then The Beatles came along and made everything change.
MRM: Could you speak about your time in the The Candymen?
Justo: I was really fortunate "The Roy" (Roy Orbison) heard me sing when I was about 17, and he liked the way I sang, and wanted to produce me as an artist—When Bobby Goldsboro had a hit record, and left the band, I was asked to take his place.
MRM: How was it working with Roy Orbison?
Justo: It's hard to imagine working for a nicer guy. It also gave me the opportunity to start traveling the world at age 20.
MRM: How was the Atlanta Rhythm Section formed?
Justo: ARS was the brainchild of Buddy Buie who wanted to start the first Supergroup comprised of what he thought were the best musicians in the south.
MRM: Who came up with the name?
Justo: The band was Buddy's creation, as was the name. Which, to my recollection, none of us really liked.
MRM: Why did you all choose the softer side of rock?
Justo: I wasn't a part of that direction, I would say that it just happened
MRM: Other than ARS, what is Doraville, Georgia known for? (haha)
Justo: You're kidding right.LOL really, nothing.
MRM: When did you all realize that you had something special with ARS?
Justo: I'd say that we really believed in the band. However, there were too many financial negatives to keep me in the band at that time.
MRM: Y'all jammed for President Jimmy Carter?
Justo: I wasn't there for the Carter inauguration.
MRM: Which band that opened up for you ended up being the biggest?
Justo: Dean can answer that better than me, but Aerosmith and Heart come to mind.
MRM: Is it an honor for ARS to be considered the "Southern Steely Dan"? (haha)
Justo: The Steely Dan comparisons are flattering. Certainly compared to the rest of the "Southern Rock" bands, our chord structures, and lyrics are more (for a lack of a better word) sophisticated.
MRM: This will be Dean's last show with ARS on December 27, 2019 at the Buckhead Theatre?
Justo: Yes, it will be Dean's last show….I'll miss the old bastard, we started playing together in 1966. It's been a long time. He was my roommate in the old days when we had to stay two to a room.
MRM: Why is he retiring?
Justo: The road has beat the crap out of him, and he's just in too bad a shape to continue.
MRM: Any special guests or festivities planned for when you all return home on December 27, 2019 at the Buckhead Theatre in Atlanta?
Justo: No special guests, but we're trying to let our friends know that the 27th will be his last show, and we'd like for them to come by to say hello.