EAGLES ADD MORE 2023 "HOTEL CALIFORNIA" TOUR DATES
Concerts Added in Jacksonville, an Encore Performance in Tampa, Columbia, Knoxville, Greensboro, and NewarkFeaturing the 'Hotel California' Album in Its Entirety, with Accompanying Orchestra & Choir, Plus Full Greatest Hits Set
Tickets on Sale Friday, January 13th @ 10:00 AM Local Time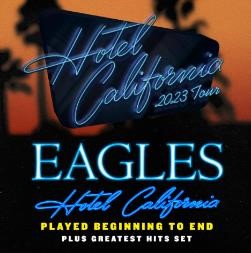 EAGLES – Don Henley, Joe Walsh, and Timothy B. Schmit, with Vince Gill – extend the band's "Hotel California" Tour with additional 2023 shows set for Jacksonville, Florida (Mar. 25); an encore performance in Tampa, Florida (Mar. 28); Columbia, South Carolina (Mar. 30); Knoxville, Tennessee (Apr. 1); Greensboro, North Carolina (Apr. 4); and Newark, New Jersey (Apr. 7). Tickets for the "Hotel California" 2023 Tour, produced by Live Nation, go on sale Friday, January 13th at 10 AM local time through Ticketmaster. See below for a full list of 2023 tour dates.
Each concert will feature 'Hotel California,' performed live in its entirety from start to finish, accompanied by an orchestra and choir.  After a short intermission, the band will perform a full set of their greatest hits. All shows will begin at 8 PM.
Presales are available starting Thursday, January 12, starting at 10:00 AM local time. A limited number of VIP packages, including premium seats, exclusive merchandise, parking & more, will be available.  Check Eagles.com for complete tour and ticket information.  
The Eagles kicked off the "Hotel California" concerts in 2019 in Las Vegas to rave reviews and critical acclaim. To date, the Eagles have performed 77 sold-out shows, including five nights at the famed Madison Square Garden in New York City, four nights at the MGM Grand Garden Arena in Las Vegas, NV, four nights at American Airlines Arena in Dallas, TX, three concerts at the Toyota Center in Houston, TX, three nights at the Forum in Los Angeles, and multiple nights in Austin, TX, Denver, CO, Nashville, TN, San Francisco, CA, Phoenix, AZ, Seattle, WA, St. Paul, MN, and Toronto, ON.
"From the title track — a 6 1/2-minute flamenco-reggae ballad— to the elegiac closer 'The Last Resort,' it's consummately performed…"  – Los Angeles Times'  
"Eagles' trademarks — evocative storytelling, grab-your-ears instrumentals and rich harmonies — haven't diminished over time…" – Times-Picayune
  "By now the orchestra has been joined by a choir. The Eagles' sound, with its glowing harmonies, barely needs them, but they add to the sense of occasion – and the delight of the crowd. I've never seen so many songs receive a standing ovation."  – Daily Mail
  "…the Eagles spent more than 2 hours and 40 minutes on stage performing most of the best-known songs in their oeuvre, their voices sounding as robust as they did half their lifetimes ago. And the show was all the best adjectives you can think of — exhilarating, breathtaking, stunning, magical, triumphant."  – Charlotte Observe
r   "It was a soulful, technically brilliant concert, with state-of-the-art sound engineering, wonderful performances and beautiful visuals presented on a giant screen behind the musicians." – Buffalo News
  And it was…sublime. Eagles have long had a knack for precise, recording-perfect performances, and playing "Hotel California" was perhaps the finest exposition of that. The sound mix was pristine, the vocal harmonies were rich…"  – Oakland Press
  "What made the "Hotel California" portion of Thursday's set so stunning was just how airtight the Eagles sounded… The "Hotel California" portion of the set was near perfection – a tight, 50-minute showcase of musicality that would have been worth the price of admission alone. But the night was far from over."  – Cleveland Plain Dealer
"The Eagles came and conquered… a powerful three-hour performance that was visually compelling, sonically dynamic and consistent from start to finish." – Birmingham News
  "Thousands of fans checked in to Wells Fargo Arena to see The Eagles on Thursday night. Once inside, it was clear that some never wanted to leave." – Des Moines Register
Hotel California is the third best-selling U.S. album in history, certified 26-times Platinum by the RIAA. After its release in 1976, it topped the charts and won two GRAMMY Awards for "New Kid in Town" and "Hotel California."  Several of the songs from the album have never been performed since the original "Hotel California" tour.  The band's Their Greatest Hits 1971-1977 is the best-selling U.S. album in history, with the RIAA certifying the collection at 38-times Platinum.  
In today's faddish, fractured, rock landscape, the Eagles retain an appeal that transcends both generation and genre, cementing the band's role as an enduring musical icon. As the best-selling American band of the '70s, and one of the top-selling acts of all time, the Eagles have sold more than 150 million albums worldwide, scored six #1 albums, and topped the singles charts five times. They have won six GRAMMY® Awards, were inducted into the Rock & Roll Hall of Fame in 1998, in their first year of eligibility, and received the Kennedy Center Honors in 2016. 
About Live Nation Entertainment Live Nation Entertainment (NYSE: LYV) is the world's leading live entertainment company comprised of global market leaders: Ticketmaster, Live Nation Concerts, and Live Nation Sponsorship. For additional information, visit  www.livenationentertainment.com.
"HOTEL CALIFORNIA" 2023 TOUR DATES:
Sunday, Feb 19                       Portland, OR                          Moda Center
Tuesday, Feb 21                      San Jose, CA                           SAP Center at San Jose
Friday, Feb 24                         Palm Springs, CA                   Acrisure Arena
Saturday, Feb 25                    Palm Springs, CA                   Acrisure Arena
Wednesday, Mar 1                  Phoenix, AZ                            Footprint Center
Friday, Mar 3                          San Diego, CA                        Pechanga Arena San Diego
Saturday, Mar 25                    Jacksonville, FL                     VyStar Veterans Memorial Arena
Tuesday, Mar 28                    Tampa, FL                              Amalie Arena
Thursday, Mar 30                  Columbia, SC                         Colonial Life Arena
Saturday, Apr 1                       Knoxville, TN                         Thompson-Boling Arena
Tuesday, Apr 4                       Greensboro, NC                     Greensboro Coliseum
Friday, Apr 7                           Newark, NJ                            Prudential Center