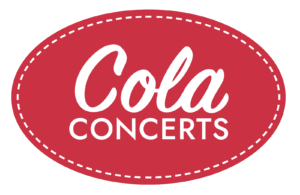 (Columbia, SC October 20, 2020) South Carolina natives Shovels and Rope will help launch the Palmetto State's newest live concert series, Cola Concerts on Saturday, November 14 at the Columbia Speedway Entertainment Center. The band will perform for thousands of fans as part of the new series, which will feature live performances by some of the top musicians and comedians touring today. Tickets for Shovels and Rope at the Columbia Speedway Entertainment Center go on sale Friday, October 23 at 10:00 am at ColaConcerts.com.
Accomplished musicians in their own right prior to dedicating themselves full time to Shovels & Rope in 2011, Michael Trent and Cary Ann Hearst have made a career together by seizing opportunities and never resting on their laurels or being complacent in doing something just because. The Charleston, South Carolina natives have been carving out a niche in the music world with strong, roots/indie/folk/rock-inspired efforts like 2012's O' Be Joyful, 2014's Swimmin' Time, and 2016's inward-looking Little Seeds, as well as their powerful live show, far-reaching tours, and myriad TV and festival appearances, Shovels & Rope have earned the right to follow their own muse. And so, in an effort to satisfy their numerous creative interests and adapt to a changing industry, Trent and Hearst have firmly planted their flag in realms beyond recording and releasing albums.
The duo curate the High Water Festival, created their own performance film, and have written their own children's book. All of this is on top of recording seven albums, and won a pair of American Music Association Awards including Song of the Year for 2013's Birmingham.
The Cola Concerts Series will also welcome St. Paul and the Broken Bones Friday, November 20, Allman Betts Band Saturday, November 21, Ranky Tanky Sunday, November 22, and Wynonna Judd Thursday, December 10.
The Cola Concerts Series at the Columbia Speedway Entertainment Center will feature a pair of 40-foot state-of-the-art digital screens allowing for picture-perfect viewing even during daylight hours. With a capacity of 3500, the site will be one of the largest entertainment experiences operating in South Carolina. Fans will be able to safely experience live music, comedy and love broadcasts of professional and collegiate sports from special coves, which are 12'x12' areas enclosed by posts and ornamental rope. The coves will be big enough for up to four fans to safely socially distance from others.
Tickets for Shovels and Rope, Saturday, November 14, 8:00PM at the Columbia Speedway Entertainment Center go on sale Friday, October 23, 10:00 AM at ColaConcerts.com. Tickets will also be available the night of show at the gate, subject to availability. Each ticket will admit one guest and range from $30 to $60 depending on where the guest wants to sit.
Fans are encouraged to sign up for Cola Concerts Speedway Club at ColaConcerts.com to get all show announcements and early access to ticket presales. The Columbia Speedway Entertainment Center is located at 2001 Charleston Highway, Cayce, SC 29003.
Follow Cola Concerts:
Facebook: Cola Concerts
Instagram: @ColaConcerts
Twitter: @ColaConcerts