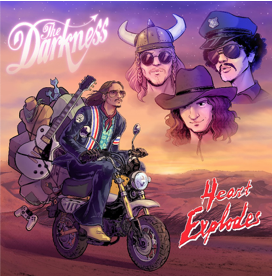 LOS ANGELES, CA – AUGUST 16, 2019 – UK rock band The Darkness – frontman Justin Hawkins, guitarist Dan Hawkins, bassist Frankie Poullain and drummer Rufus Taylor – released the brand new single "Heart Explodes" from their jaw-droppingly ambitious, first-ever concept album
Easter Is Cancelled
, out on October 4
th
via Cooking Vinyl. Watch the lyric video for "Heart Explodes"
HERE
.
"Heart Explodes" is an almighty mini-rock opera that finds The Darkness baring all in a multitude of heartfelt emotions reflecting the hardships, struggles and changing relationships of life. Justin Hawkins explains, "It's about the despair of change. Having to reappraise your life and what you're holding on to. It's like that feeling when you just want to go for a swim and keep going. Wanting to be enveloped by something that will gradually pull you down. If you really, really want to survive that process, you can. We've all been there – people who say they haven't are lying." Dan Hawkins adds, "The difference between the Darkness' sadness and other bands' sadness is that we don't wallow in it. Even when it's sad, there's a playfulness to it."
"Heart Explodes" follows the release of
Easter is Cancelled
album opening track
"Rock and Roll Deserves to Die,"
which sees the band hailing the death of the guitar in an epic five-minute masterpiece featuring monumental riffs, thunderous bass and almighty drums, alongside some beautifully delicate touches from the band. The songs are a glorious example of what to expect from
Easter Is Cancelled,
the band's most exciting and diverse record to date.
The ten-track album produced by Dan Hawkins (who also produced the band's magnificent 2015 release Last Of Our Kind), examines the role of the musician in the barbarous culture of the world today, and their almost divine responsibility to challenge the establishment – something that most rock 'n roll artists seem to have given up on in favour of easy celebrity. And yet at the heart of this tale is love, loss and heartbreak, where redemption is ultimately found in the brotherhood of band friendship and the power of the guitar, as brought full circle in the glorious album closer "We Are The Guitar Men."
Easter Is Cancelled
will be released digitally and in full technicolour physical glory as a standard CD, digipak CD with bonus tracks, gatefold LP, limited edition colour vinyl gatefold LP and cassette. The album is available to
pre-order now
from the band's Official Store with special signed copies, deluxe edition and exclusive album bundle offers.
The Darkness will be spreading their Easter Is Cancelled message across the land with a full North American tour in Spring 2020 (dates to be announced). The band is set to open a string of stadium dates with fellow Suffolk-based musician Ed Sheeran in August, they'll play the KISS Kruise in October and will kick of the UK and Ireland headline dates of the Easter Is Cancelled tour this winter.