THE MARSHALL TUCKER BAND RELEASES LIVE
SOUTH CAROLINA MUSIC HALL OF FAME CONCERT RECORDINGS: LIVE! FROM SPARTANBURG, SOUTH CAROLINA
Live Recordings from 1995 South Carolina Music Hall of Fame
Concert Available Today
Album Features MTB Performing Hits Songs with Musical Accompaniment
from Charlie Daniels, Members of The Allman Brothers Band, The Outlaws,
Firefall and Wet Willie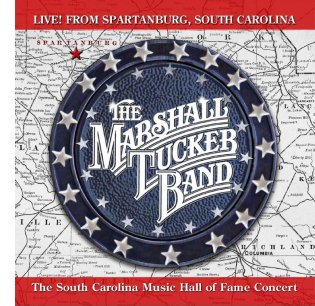 NASHVILLE, Tenn. (May 28, 2013) – Southern Rock icons THE MARSHALL TUCKER BAND (MTB) have gone into the vault and emerged with never-before-heard live concert recordings from their 1995 South Carolina Music Hall of Fame induction.
LIVE! FROM SPARTANBURG, SOUTH CAROLINA is available for purchase today, May 28, 2013, exclusively from Shout! Factory.
The eleven-track album, recorded live on September 19, 1995 at Spartanburg, South Carolina's Memorial Auditorium, features the MTB performing their biggest hits with musical accompaniment from Charlie Daniels, Jamioe and Butch Trucks of The Allman Brothers Band, The Outlaws, Firefall and Wet Willie.
"The day this concert was recorded was a very big day for Marshall Tucker," says MTB lead singer and founding member Doug Gray.  "Fans have waited a long time for this live recording with so many of our musical friends."
On the album, fans can expect unreleased live versions of MTB classics including, "Can't You See," "Heard It In A Love Song," "Fire On The Mountain" and "24 Hours At A Time."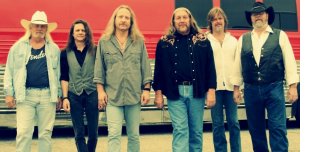 Forty-one years ago, the MTB was founded in Spartanburg, SC. The 5x Gold, 3x Platinum-selling Southern Rock group has sold more than 15 million albums to date. MTB songs have been featured in major motion picture films and television series including Blow, The Box, Swing Vote, Half Nelson, My Name Is Earl, Cold Case and Good Guys. CMT (Country Music Television) named the MTB's "Can't You See" the #4 Greatest Southern Rock Song . The MTB's debut album, The Marshall Tucker Band, reigns as Gibson Guitar's #5 Greatest Southern Rock Album. Recently, UltimateClassicRock.com crowned the MTB's "Can't You See" the #1 Greatest Southern Rock song ever recorded.
For additional information on The Marshall Tucker Band, visit www.marshalltuckerband.com.
LIVE! FROM SPARTANBURG, SOUTH CAROLINA Track Listing:
1.  Heard It In A Love Song
2.  This Ol' Cowboy
3.  Long Hard Ride
4.  Desert Skies
5.  Searchin' For A Rainbow
6.  Fire On The Mountain
7.  24 Hours At A Time
8.  In My Own Way
9.  Ramblin'
10.  Askin' Too Much Of You
11.  Can't You See
# # #