Styx
April 21, 2023
Columbia, SC
Township Auditorium
Review by Joseph Hett
Styx Lights Up Columbia
There's nothing like a rock show on a Friday night. Letting loose after a long week with timeless music. And that's exactly what happened when Styx stopped in Columbia, SC at the Township Auditorium. Billed as their 2023 World Tour, Styx gave the capacity crowd everything they had during the two-hour show.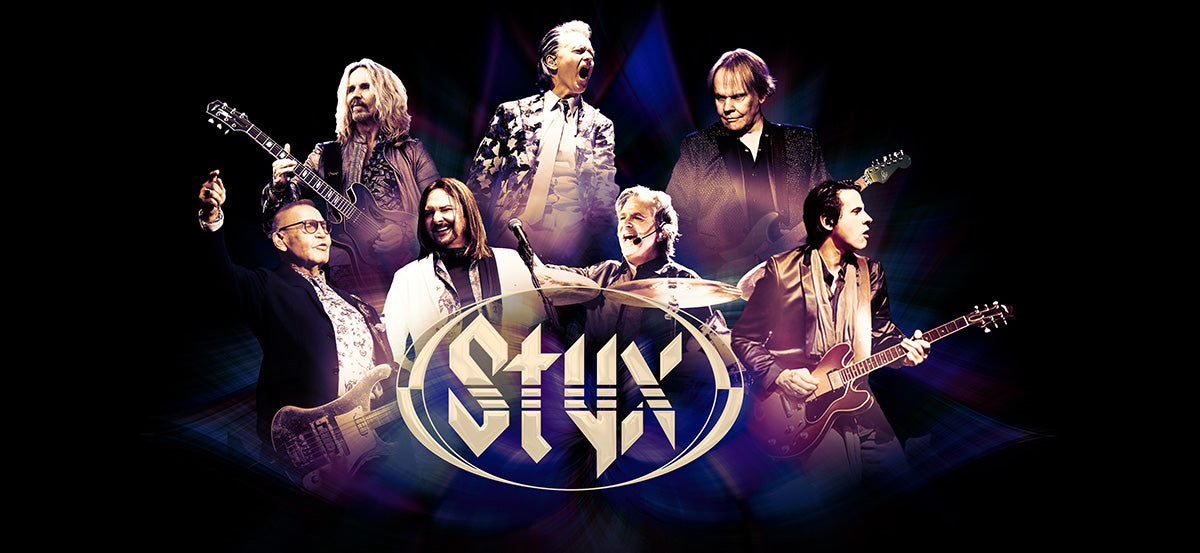 Tommy Shaw (guitar/vocals), James "J.Y." Young (guitar/vocals), Todd Sucherman (drums), Lawrence Gowan (keyboard/vocals), Ricky Phillips (bass) and Will Evankovich (guitar) came out rocking with "To Those" – from 2021's "Crash of the Crown" album.
Once the opening keyboard riff for "Blue Collar Man (Long Nights)" started, everyone in attendance really got pumped up. They kept the classics coming with "The Grand Illusion" and "Lady."
It was nice to see co-founding member Chuck Panozzo (bass) make a few appearances throughout the evening. He was missed the last time Styx came to Columbia.
Young took us back to 1975 by introducing "Light Up." This song was a day late…would have been better to hear on 4/20. As expected, Sucherman was a monster on drums all night long.
Shaw spoke about auditioning for Styx and the creation of the song "Crystal Ball." They then had everyone in the venue singing along to the chorus.
After band intros, it was time to party when Gowan put on a top hat and sparkly jacket for "Rockin' the Paradise." Young spoke about America's bicentennial before launching into the heavy "Suite Madame Blue."
Shaw announced that there would be a 20-minute intermission after the next song. He then had everyone envision the early days of MTV before the funky "Too Much Time on My Hands."
After the break, Styx came back out with "Red Storm" – from 2017's "The Mission" album. They continued with the fan favorite "Lorelei." Young got to sing lead on the riffing "Miss America."
"Pieces of Eight," a deeper cut from the album with the same name, even included the extended instrumental ending of "Aku-Aku." Shaw gave a shout-out to Panozzo before "Fooling Yourself (The Angry Young Man)."
Gowan performed a blazing keyboard solo named "Khedive." After the short nautical themed duet with Panozzo called "Lost at Sea," it was time to set sail with the epic "Come Sail Away." After receiving a standing ovation, Styx left the stage.
Back for the encore, Styx performed the synth-driven "Mr. Roboto" and the legendary rocker "Renegade."
It was great to see a full Styx show which featured the classics, a few deep cuts and a few newer tunes. After all of these years, they still have phenomenal musicianship. Styx puts on a must-see show!